BECOME A LYNDEN DOOR TRUCKING TEAM MEMBER!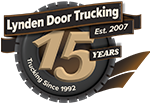 Lynden Door Trucking, LLC is growing and looking for a full time, or part-time / relief driver based out of our yard in Lynden, WA. Applicants must be physically fit enough to assist off-loading and tailgating product to the rear of the trailer with a pallet jack. Experience with quad axle dry van trailers, heavy hauling and bridge law knowledge is a plus. We haul between 60% and 70% of our own wood door related freight. Equipment consists of Peterbilt and Volvo tractors.
QUALIFICATIONS
Class A drivers must be able to provide a good driving abstract

OTR or mountain driving experience is a plus

Drivers must understand all DOT driving laws and regulations

Job offers are based on passing a DOT drug and alcohol test as required by law

Must have good customer service skills and the ability to represent our companies well
MORE INFORMATION
Most of the runs consist of loads between WA, OR, ID, BC and AB to various points loading and delivering as needed.

Some of the lanes require overnight trips on the road per DOT requirements regarding hours of service.

There is some flexibility if you're only available for part time weekend work.
COMPENSATION & BENEFITS:
Wages paid at competitive hourly rate & based on experience; direct deposit

Overtime is paid after 40 hours of work for the week

Pay bonus eligibility after 90 days of employment

Paid vacation & holidays, retirement package, and health coverage are available to full-time employees
LYNDEN DOOR TRUCKING IS AN EQUAL OPPORTUNITY EMPLOYER
We provide equal employment opportunities to all employees and applicants providing no discrimination on the basis of race, religion, color, sex (including pregnancy, gender identity, and sexual orientation), parental status, national origin, age, disability, family medical history or genetic information, political affiliation, military service, or other non-merit based factors.